A colugo close-up
I paid a short visit to Langkawi late in 2009. Langkawi is an archipelago of 99 islands in the Andaman sea, some 30 km off the mainland coast of northwestern Malaysia. The islands are a part of the state of Kedah, which is adjacent to the Thai border. Langkawi offers nature at your door-step as many of the resorts are built in/around the forested area. Simply step out from your room and you will find subjects to photograph. There were many colugos, giant squirrels, langurs.
A pair of colugos found hiding in tree crevices. Note the different in coloration.
This one was found hanging on the roof!
A smart move because it was raining outside!
Colugo in mid-air!
There were Dusky Leaf Langurs roaming in the resort ground. They are quite used to man and thus very approachable. You can get good close-up shots!
Dusky leaf langur family, the young is bright orange in colour!
Wet look after rain.
Black Giant Squirrel resting on a tree.
Night time welcomes the arrival of nocturnal animals. There were flying squirrels, gliding colugos, owls and geckos. All can be found in your resort!
There are also activities like
Islands hoping
Eagle feeding
Mangroves cruise
Bats cave visiting
Here's a few photographs taken as our boat passed by the eagle feeding area.
How to get there?
Direct flights are available to Langkawi from Penang, Singapore, Kuala Lumpur, Hat Yai, and Phuket.
Where to stay?
Here's a few highly recommended resorts that are built around the forest. Guarantee to offer you lots of nature photography opportunities.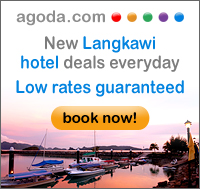 Langkawi Map